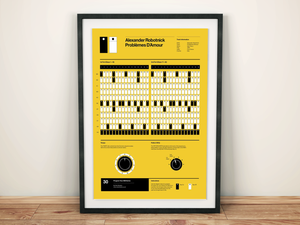 Alexander Robotnick - Problèmes D'Amour
In his own words: "Giampiero, the head of Materiali Sonori, pushed me to make some disco music, because we were both broke. 'We can make easy money with disco music,' he said to me. 'Just put a bass drum in four/four and you sell 10,000 copies!'
'So I worked on a disco track with my cheap electronic equipment. The track was "Problèmes d'Amour." Anyway, I was disappointed by the results of "Problèmes." We sold just 10,000 copies, so it was the minimum figure, as I said above. And I started to be involved in different things. But some years later I understood that the track had an impressive influence on dance music and it was a cult track for some DJs. In the end it's better like this. It's not bad to have a song that is still relevant for the scene."
A criminally overlooked bonafide classic, in this poster, artist Rob Ricketts has designed the pattern so you can play it back in your DAW or drum machine. Whether you are recreating the beat or getting visual inspiration for your studio, we wish you happy programming. 
A3 (420x297mm), printed via HP Indigo onto Symbol Freelife paper (300gsm)
Framing for display purposes only.
Product ships unframed.
Read our My Studio feature with Alexander Robotnick here.