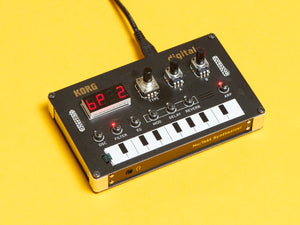 Korg NTS-1 Digital Kit
Build it, tweak it, connect it; a world of synthesis at your fingertips!
Korg is always creating new ways to experience hands-on, fun music-making.
Now, you can too.

The Nu:Tekt NTS-1 digital KIT is a unique, flexible, and easy DIY synthesizer that you can easily assemble yourself (tool included), without any soldering.

The first of its kind from KORG's DIY-focused Nu:Tekt brand, NTS-1 packs a powerful synth and multi-effects engine into a compact and highly portable form factor. Its DIY nature means it's also very customizable. Explore the possibilities!

NTS-1 is also completely compatible with the logue-SDK*, making it possible to create custom oscillators and effects or upload any of the content available for minilogue xd and prologue.

* When using 3rd party plugins on the NTS-1 please consult with the developer first as the content may sound differently than with minilogue xd or prologue based on polyphony.