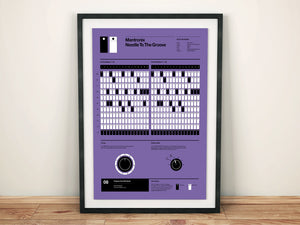 Mantronix - Needle to The Groove
Needle to the Groove - dedicated to rhyme and groove.
Mantronix was an influential 1980s group from New York and Needle to the Groove is one thir standout tracks. Pioneers in the use of the TR-808 their electro sound has influenced many who have followed in their shadow. In this poster, Rob Ricketts faithfully takes us back to East Coast 1980s groove and feel.

A3 (420x297mm), printed via HP Indigo onto Symbol Freelife paper (300gsm)
Framing for display purposes only.
Product ships unframed and tubed.