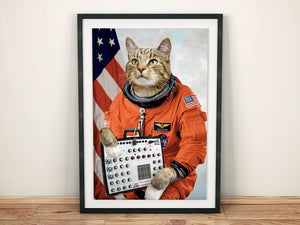 Cats on Synths in Space: Fuzz Aldrin
It's one small leap for mankind but one giant leap for cats. 
Fuzz Aldrin, not to be confused with Buzz Aldrin, alongside his partner Meow Armstrong was one of the first cats on the Moon. It was cold, even in their catsuit. Purrrr.
Photo-quality print on 300gsm uncoated archival paper.
The perfect gift for the discerning dance music, cat & synth fan. Perfect for framing!

Print size is A3 (29.7 x 42.0cm)