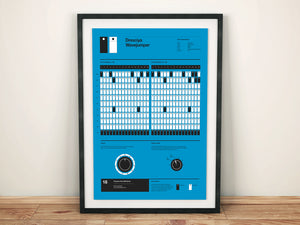 Drexciya - Wavejumper
Drexciya's Wavejumper is arguably one of the most iconic Roland TR-808 drum beats ever.
Hailing from Motor City, Drexciya's driving beats represent the sound that went on to inspire a generation of producers. As a duo, they were often controversial and over ten years released just five EPs although they remain one of the most celebrated and influential names in American techno.
In this poster, artist Rob Ricketts has designed the pattern for their seminal Wavejumper so you can use it to recreate the beat or get visual inspiration for your studio.
A3 (420x297mm), printed via HP Indigo onto Symbol Freelife paper (300gsm)
Framing for display purposes only.
Product ships unframed and tubed.