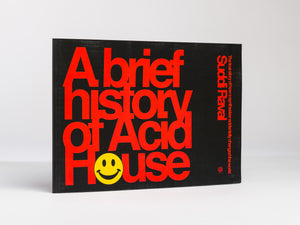 A Brief History of Acid House
When a bass synth was discovered to have hidden and unintended potential, the musical results sparked a revolution and thus Acid House was born.
Travelling from Chicago to the UK and then across the globe, the legacy and lasting impact is hard to overstate and even helped to change the law of the land!
Suddi Raval captures the mood, key players and major events in a fun and colourful account that is certain to bring back 'smiley' memories for thousands of happy nostalgic ravers.  
Paperback, 60 pages
For further information read our interview with the author Suddi Raval:
https://www.attackmagazine.com/features/interview/brief-history-acid-house-suddi-raval/