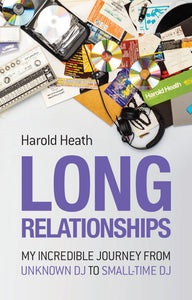 Long Relationships: My Incredible Journey from Unknown DJ to Small-Time DJ
Written by former DJ/producer Harold Heath, this biographical account delves into the often unseen world of the 99% of DJs who never make it big.
From electro and hip hop to rare groove, acid house, rave, and the UK underground club scene, this 30-year tale of a life lived in dance music is packed with exciting stories of clubs, raves, warehouses, record production, record deals, international travel, and more.
Long Relationships provides an intimate look at the ups and downs of DJing, giving readers a true understanding of the industry and the magical moments that make it all worth it.
Don't miss out on this must-read for dance music enthusiasts!
Paperback, 304 pages.