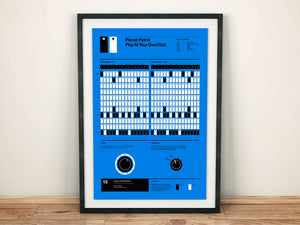 Planet Patrol - Play at Your Own Risk
Toms, toms and more toms. Enough Tom fills to keep any tom fill fan happy.
Planet Patrol sit closely with our other posters notable Freeze and Afrika Bambaataa. The Patrol is made up of Arthur Baker and their most popular song, "Play at Your Own Risk" was created from tracks that failed to make the cut of Afrika Bambaataa's "Planet Rock". 
Too many TR-808's ruins the broth so the saying goes. Didn't diminish Rob Ricketts from painstakingly re-imagining it!
A3 (420x297mm), printed via HP Indigo onto Symbol Freelife paper (300gsm)
Framing for display purposes only.
Product ships unframed and tubed.