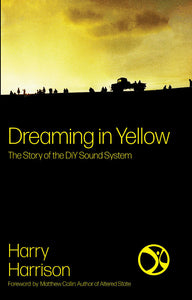 Dreaming In Yellow: The Story of the DiY Sound System
Discover the story of the pioneering DiY Collective, one of the UK's first house sound systems. Merging the free festival scene, political activism and the electronic pulse of acid house, they left a lasting impact on the underground music scene.
From Castlemorton to the Cafe del Mar, their sound and DJs gained international recognition and cult status. "Dreaming in Yellow" is a comprehensive guide to the collective's tumultuous existence and their eclectic, outrageous, and sometimes deranged journey of "doing it themselves".
Get your copy now and dive into the story of the DiY Collective.
Paperback, 272 pages.