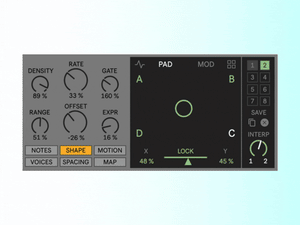 Travelogue by Novel Music 
Travelogue is a generative Max for Live MIDI device that sends users through a unique sonic journey full of new discoveries and happy accidents.

With a deceptively simple UI, the four-voice melodic engine generates a wide variety of moods and textures, from melismatic counterpoint to tightly looping phrases and everything in between.
Inspired by Music Thing Modular's Turing Machine and Mutable Instruments' Marbles, Travelogue supplies endless variations from which to build larger musical constructions.
Travelogue Key Features

Intuitive Design
Using random noise as a source, Travelogue's intuitive controls allow you to shape a constantly evolving musical experience. The XY Pad on the right controls the balance between the four voices (A, B, C, D). Shape and refine your material through the various control panels on the device's left side.
Complex Modulations Made Easy

Nearly all of the left-side control panel parameters can be modulated with Travelogue's onboard matrix. Modulation sources include three built-in LFOs, and the pad's X-axis and Y-axis which allow for complex, yet musically meaningful connections.
Morph Between Presets
Smoothly interpolate between presets to uncover new material within your melodic ideas.
Output to Any MIDI Track
Travelogue ships with a companion device named Destination which receives any combination of voices A, B, C, and D.
Format, Version & System Requirements
Ableton Live Suite 11.1 and Up

Mac and Windows Compatible
What Is Max for Live?
Max For Live is a powerful platform that allows producers to create custom instruments and audio effects from a vast library of tools. It boasts intuitive workflow and performance capabilities, allowing producers to quickly create and share their work. With Max For Live, producers can take their creativity to the next level.